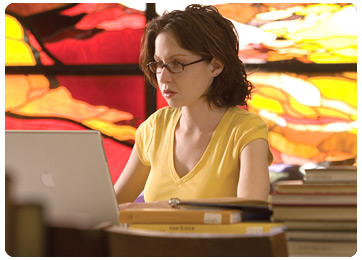 Modules
Update (Spring 2019)

The APA modules have been updated to reflect the 7th edition of the APA Style Manual.
Please contact Christina.Wray@ucf.edu or Katy.Miller@ucf.edu with any questions.
Topics addressed in modules:
Avoiding Plagiarism Using APA Style (updated 12/11/19)
Avoiding Plagiarism Using MLA Style (updated 8/18/17)
Avoiding Plagiarism Using Chicago Manual of Style, 16th Edition (New 8/16/13)
Citing Sources Using APA Style (updated to the 7th edition, December 2019)
Citing Sources Using MLA Style (updated to the 8th edition, August 2017)
Conducting a Literature Review
Creating a Search Strategy
Evaluating Web Sites
Focusing an Information Search
Moving Into Discipline Specific Research

Recognizing a Research Study
Selecting Articles for Academic Assignments
Understanding the Information Cycle
To assign modules for your students, login to the Repository. For detailed instructions, read the Quick Start Guide.
What is a Module?
A module is a complete, automated instructional resource (no instructor intervention required).
Each module is based on one identified learning outcome and contains: content presentation, practice with feedback, and assessment of learning.
Each module can be completed in one sitting (approximately 30 minutes).
Content presentation may be text, graphics, video, interactive media or a combination as appropriate.
Practice/Assessment may be "traditional" (i.e., true/false or multiple choice) or "non-traditional" (e.g., simulation/authentic assessment) as appropriate.
We offer three options you can choose from to begin utilizing the modules to best suit your course.
Option 1:  If you are using a Canvas course, you can 'Add an Assignment' to integrate modules in your course. This process will SYNC SCORES to your Canvas grade book. Instructions are located here http://onlinesupport.cdl.ucf.edu/obojobo/using-obojobo-in-webcoursesucf/
Option 2: You can create a version or "instance" of a module starting in the repository http://obojobo.ucf.edu/repository where you will create an instance and copy and paste a unique URL into a document/page to share with your students. Creating an instance in the repository will NOT SYNC SCORES to your Canvas grade book. Scores will be available in the repository where you can download them. Instructions for creating an instance are located here http://infolit.ucf.edu/faculty/quickstart/view-all/
Option 3: You can refer students to our generic set of modules by providing them the following link http://infolit.ucf.edu/students/modules. Please note that this option will not allow you to access students' scores. You might choose this option when you want students to learn the material, but you do not necessarily need to record their scores or know whether they attempted the modules.
For more information about the options or assigning modules, please visit the Getting Started instructions.
Should you have ideas or suggestions about future module topics, please visit the Feedback Form and send us your thoughts!