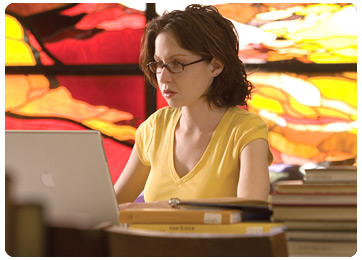 Badges
As part of a UCF pilot project, digital badges are awarded to students for completion of any of UCF's Information Literacy Modules. Students earn a digital badge when they score 80% or higher on a module quiz. An email is automatically sent to each student acknowledging their accomplishment and providing a link to claim their badge. This is a completely automated process and is not intended to interfere with course-level implementation of the Information Literacy Modules.
The issuing of badges for UCF's Information Literacy Modules requires no faculty intervention or assistance. Earning a badge does not obligate faculty to award students points for module completions. Any course-level assignment credit for module completions is completely separate from the badging process.
If faculty have questions or concerns about the badges issued for UCF's Information Literacy Modules, they may email infolit@ucf.edu
Information for students about badges is available at: http://infolit.ucf.edu/students/badges. Students with questions about UCF's Information Literacy Module badges should contact the Ask A Librarian service at http://library.ucf.edu/Ask or by phone at 407-823-2562 or 1-866-271-7589 (toll free).

Badging Details
Badges are awarded for successful completion of each of UCF's Information Literacy Modules. The individual modules are grouped into three functional categories: Gather, Evaluate, and Use. Students who successfully complete all of the modules in one of the categories are awarded a secondary badge validating their competency in this functional area. Students who earn all three of the secondary badges (Gather, Evaluate, and Use) are awarded a culminating, high-level badge recognizing mastery of foundational information literacy skills and knowledge required within UCF's academic context. Students may choose whether or not to "claim" badges earned. Additionally, students may choose to make some or all of their badges viewable publicly. (For each badge earned, an email will be sent to Knights email from "UCF via Credly" with an option to "Save and Share" the badge via Credly.com  Setting up a free Credly account associated with one's Knights email address makes it possible to publish selected badges on one's profile page via Credly.)
Badges are an alternative form of credentialing popular in informal learning contexts, while some academic institutions have begun to deploy badges within courses/programs as well. Demonstration of specified learning outcomes is represented visually by a "badge," a digital image displayed on a website accompanied by written information detailing the accomplishment and criteria for earning the badge. For an overview about badges, please see http://en.wikipedia.org/wiki/Digital_badges.